MAB mod. A
cal. 6.35mm (.25ACP)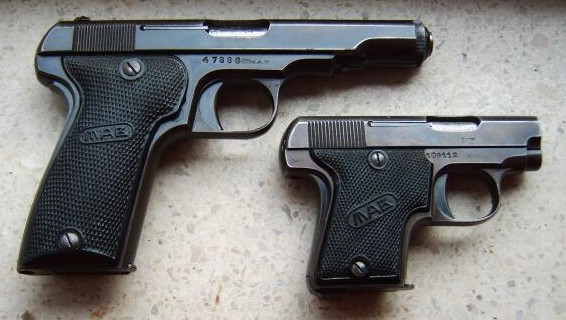 The little, it's the model A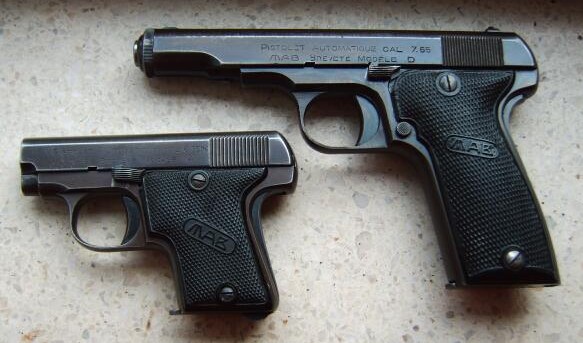 After the first Eibar Type of 1921, in Jänner 1925 the pistol MAB A in the blued version appeared on the market. A nickel plated model followed in November 1929.
The concept of this pistol is like the predecessor model. It is equipped with plastik grips in the contour of the frame, with the company's logo MAB on them. The slide now has vertical serrations, finer and numerous than on the preceding model. A palm safety was placed and the safety lever was placed at the rear end now, and got an extension to the front with a nose, which fixes the slide in the closed or open position. Like the other MAB-pistols, it got unlocked breech system.
During period of production the pistol MAB A got some smaller modifications that possibly allow an assignment to the production-date. Trigger and the extractor were first milled out of in steel and have been replaced later on with prefabricated parts from drawn sheet metal. The modification of the extractor took place since May 30th, 1948 on all arms, which numbers are higher than 65.000. Furthermore, there are hints that beginning with March 22nd, 1954 the grooves of the barrels of all MAB pistols were made without milling.
The production of the MAB A ended in September 1964.
During the German occupation in World War II between 1941 and 1944 according to books 1.130 pistols MAB A were supplied to German authorities. The serial numbers of these pieces are between 107.900 and 109.240.
In the United States, MAB-Pistols were imported and traded by the "Winfield Arms Corporation" in Los Angeles under their name. Early models were marked on the right side with "Made in France for WAC", in later years, the pistols got completely new names for the American market, like for example "Le Defendeur".
Technical Data:
SYSTEM: blowback inertial system with firing pin
CARTRIDGES: 6
CALIBER: .25 ACP
BARREL LENGTH: 53 mm, 6 grooves right hand twisting
WEIGHT EMPTY: 380 g
TOTAL LENGTH: 117 mm
TOTAL HEIGHT: 79 mm
TOTAL WIDTH: 24 mm
TRIGGER: Single Action
SIGHT: fix
SAFETY: grip-, magazine- and lever-safety
FINISH: blued
HANDLE: hard rubber