Darne 1902
Je me permets de vous soumettre l'énigme suivant:
C'est un Darne, Eugène Lefaucheux vend son affaire à Chevalier et Dru en 1881 et qui ferme boutique en 1889.
Pourtant entre les deux canons on peut lire : "fni par E. LEFAUCHEUX A PARIS"
Cela ne peut pas être Laffiteau ou Rieger puisqu'ils signaient "LEFAUCHEUX A PARIS" sans E .............
Qui peut m'éclairer là-dessus ....
Amicalement
Guillaume
Ma vue a baissé mais je lis quand même "Fni" ; dans la mesure où Lefaucheux était aussi commerçant, "Fni" ne pourrait-il pas signifier "Fourni"
C'est con, hein ?
MdS
Ca me semble au contraire très plausible
Marcel
La mention "Fni" sur une arme a toujours pu avoir deux significations: fini ou fourni.
Comme j'ai répondu à Guillaume, Darne vendait ce qu'on lui demandait, aussi bon nombre de fusils ont été soit:
- vendus en pièces détachées et remontés / signés par l'acheteur-revendeur
- vendus sans marquages et poinçonnés par le revendeur (j'ai ainsi un rare modèle 1921 vendu et marqué par Seytre Montagny).
- soit directement copiés lorsque les brevets tombaient dans le domaine public (en particulier le modèle 1902).
Je pense, d'après les photos, qu'il doit s'agir soit d'un 1897 soit d'un 1902.
Cordialement
Gilles
Ce serait donc quand même une arme fabriquée par Darne !!
Et revendue par Lefaucheux.
Alain
De toute évidence, oui, d'autant que la table du canon est marquée Darne.
En revanche, j'avais un doute sur le modèle: c'est bien un 1902, le 1897 étant équipé du système dit "à grande clef". Celui présenté est à "petite clef", avec bois en une seule partie.
Gilles
Sauf que Lefaucheux a vendu en 1881 à Chevalier et Dru, Chevalier qui ferme les portes en 1889 ..... et ensuite un défilé d'autres noms ayant acheté le nom Lefaucheux ....
Rochatte - Bertin Jourich Succ. - Béringer et A. Nouvelle - C.Modé succ. (Trouvé sur facture de 1914).
Nous avons donc l'embarra du choix ......
Qui ?
Guillaume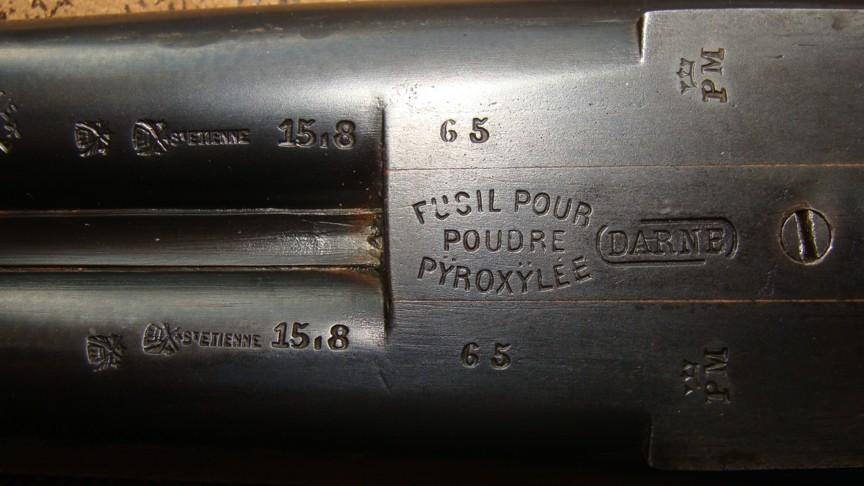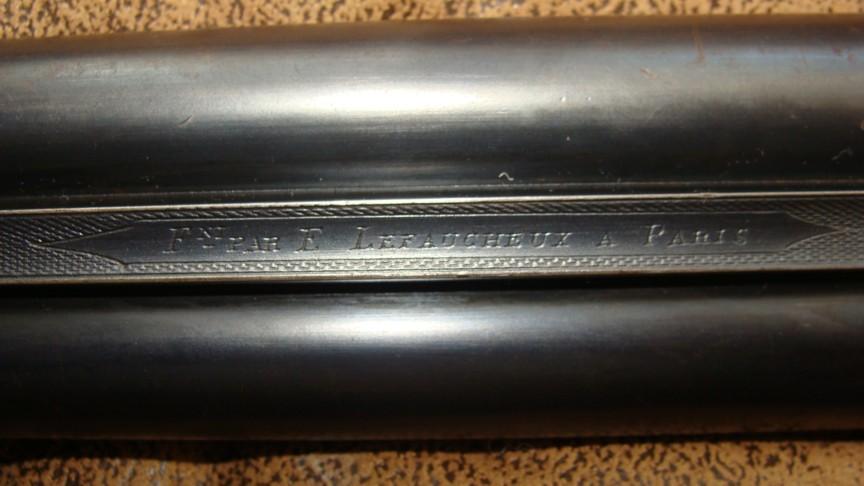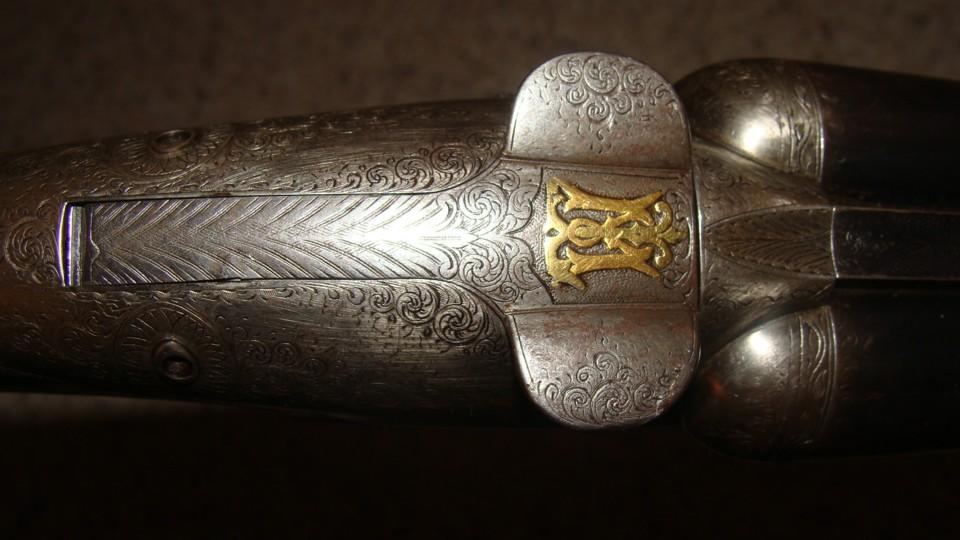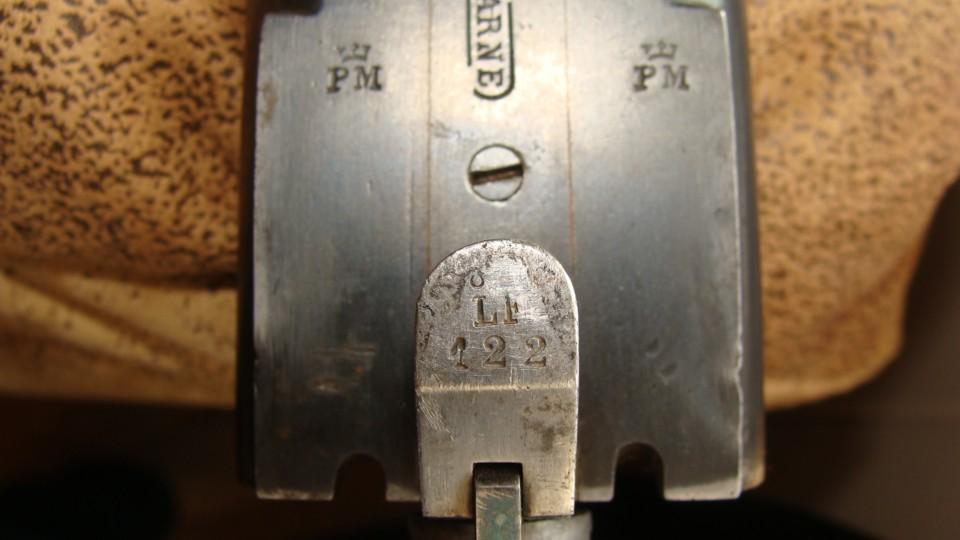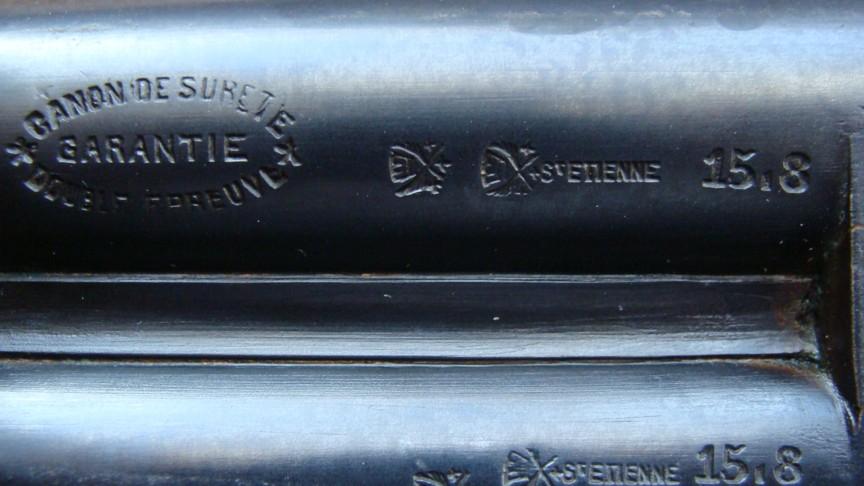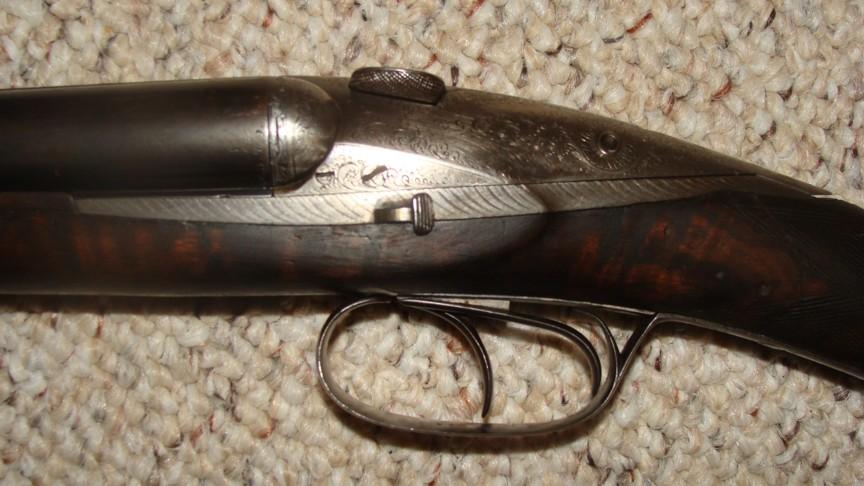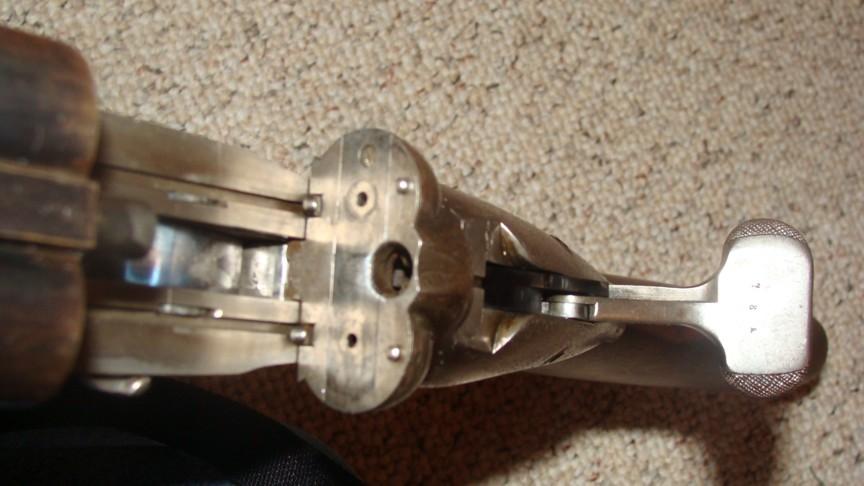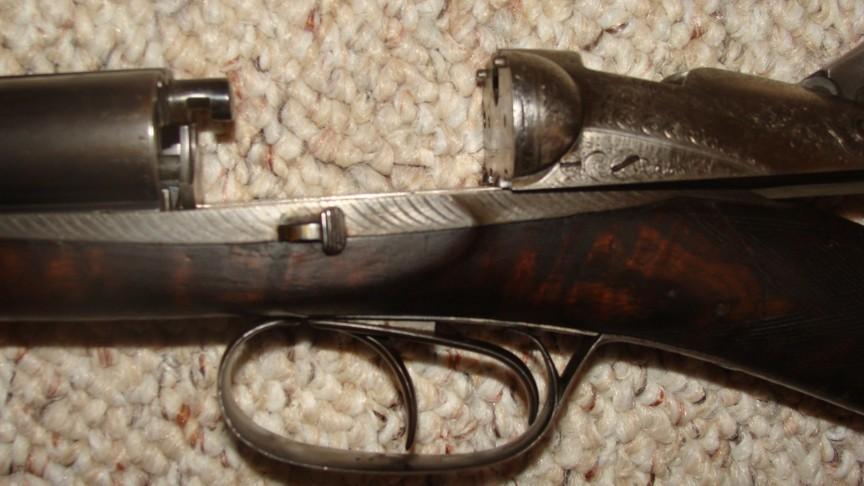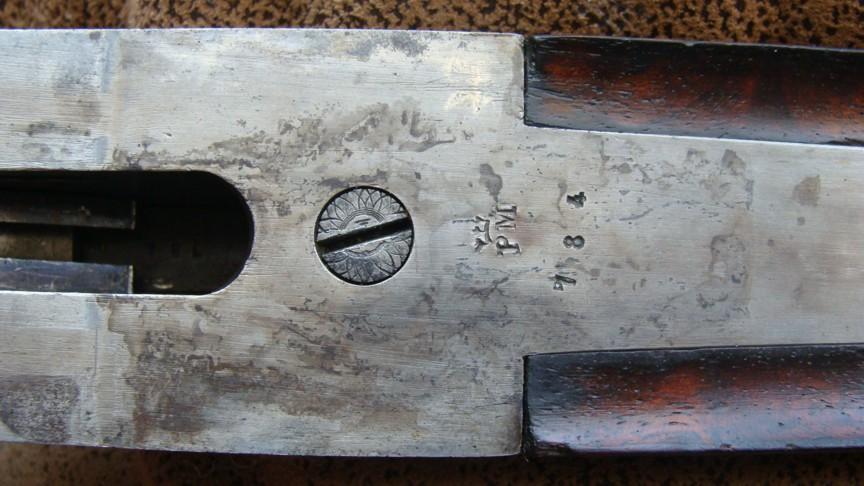 Darne rifle with rotary breech was born from the ingeniousness of Regis DARNE which had been given like policy to produce fixed barrel rifles, this in order to avoid the inevitable catches of play in the traditional systems.
The first model of "rotary" (as it will familiarly be called) is the model 1879; he will succeed of the improved models: the 1881 then 1884.
These three models of rotary breech rifles are with central percussion and external hammers; the key of opening is located on the right side.
In 1892, Régis DARNE produces a new "rotary", hammerless this one; the key of closing is always right side.
The last misadventure of the "rotary" will be the model 1908, much more modern of aspect with its key of opening on the top.
This last model will however be a commercial failure (too strong competition of more modern weapons and at DARNE of the models R and V); it is thus a scarcity for the collector (the production of the model 1908 is probably lower than 1000 specimens.
Jean Michel
Picture of three Darne rotary
On top : model 1884 with externals hammers,
in the center a model 1892,
in bottom the rare model 1908.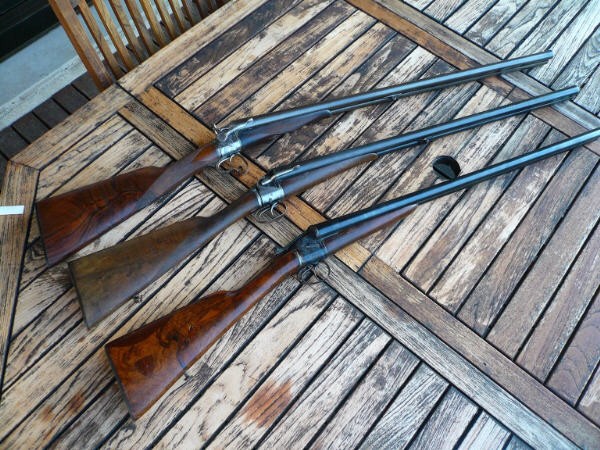 1884 with hammers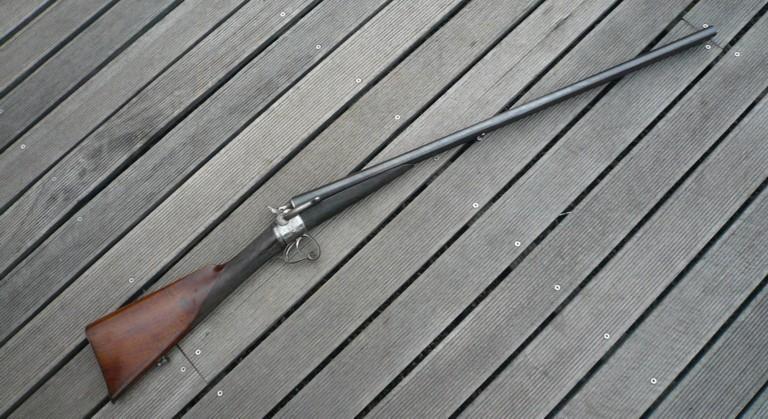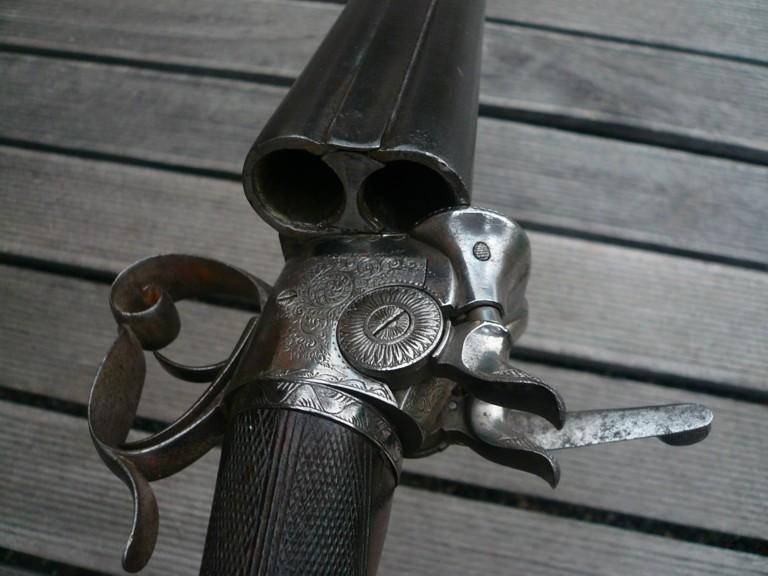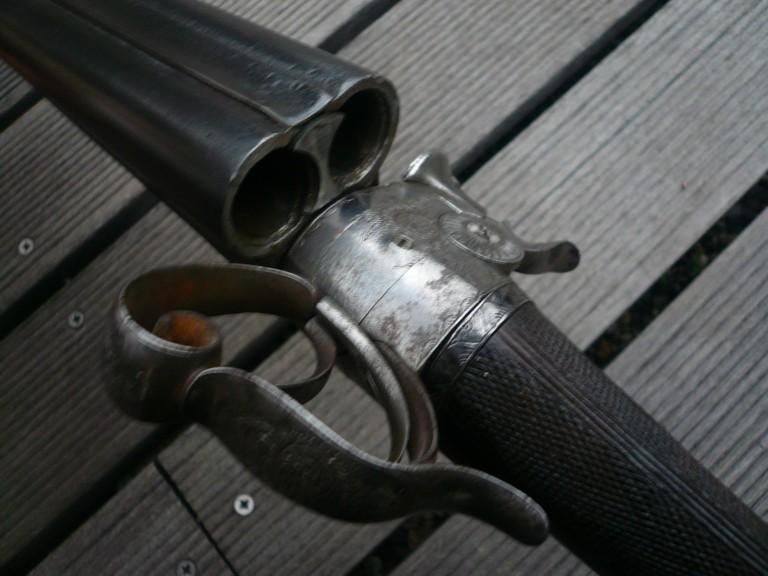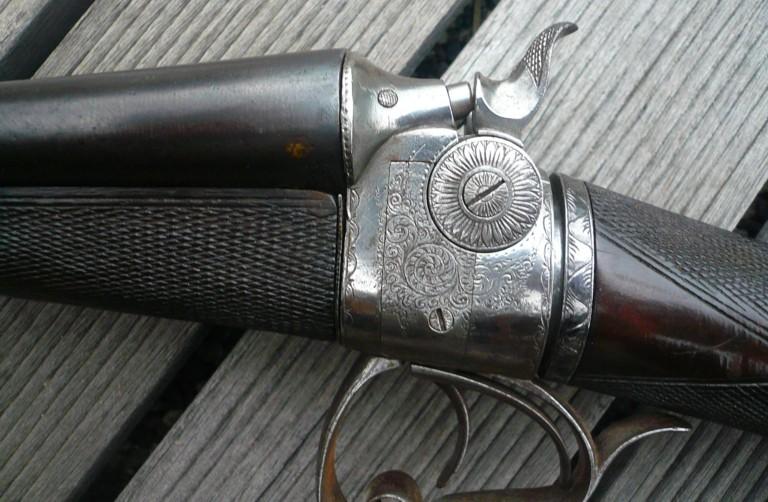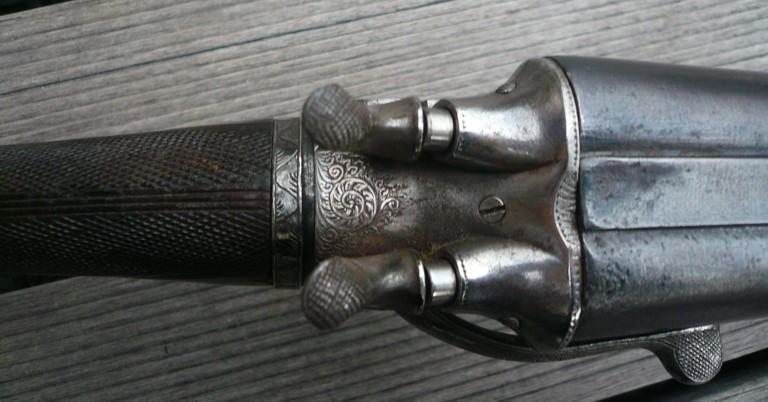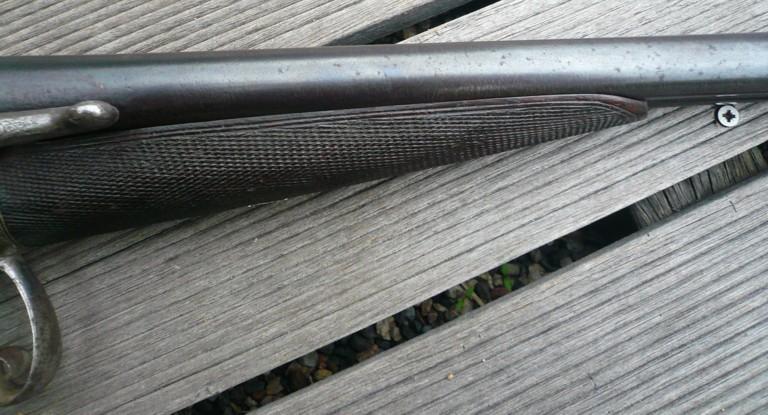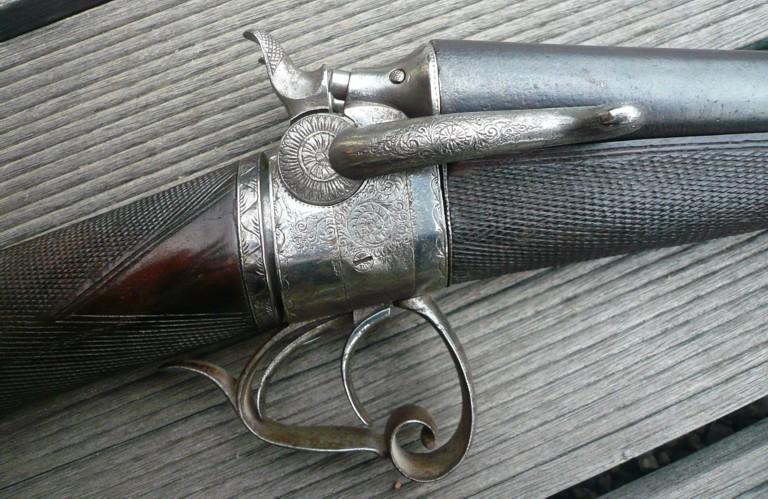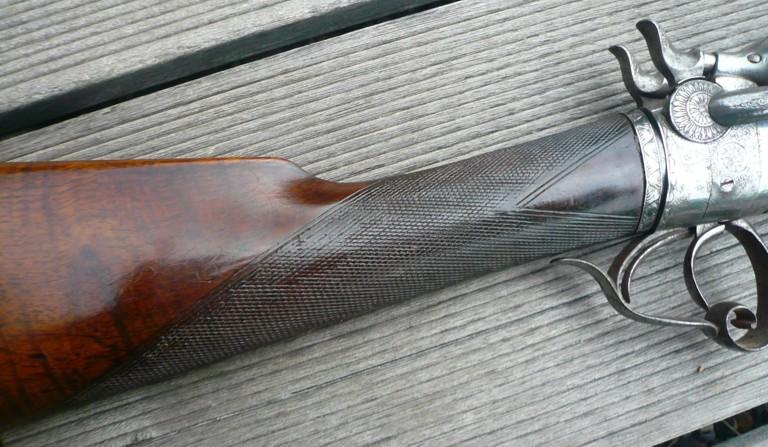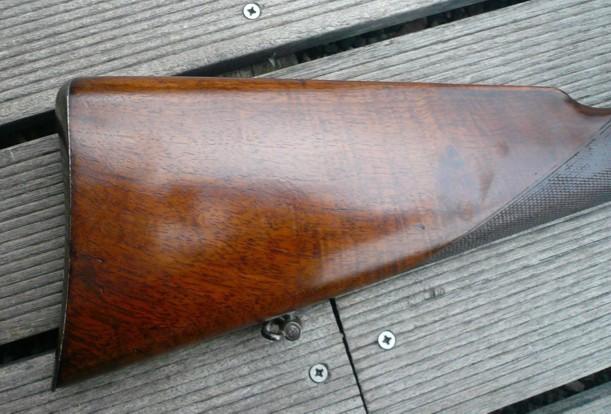 Model 1892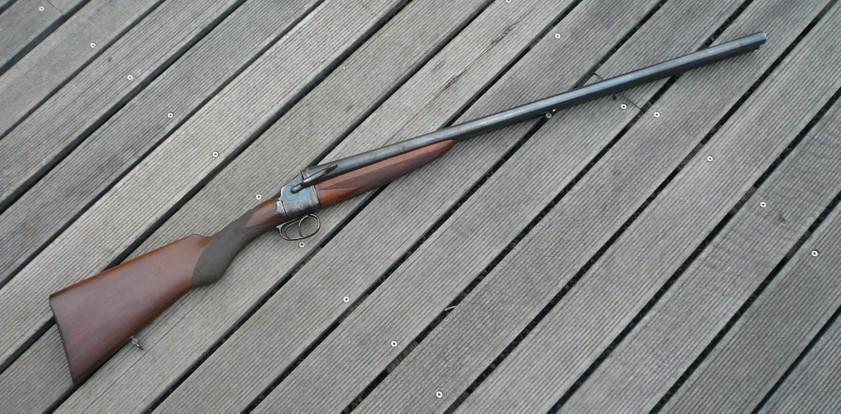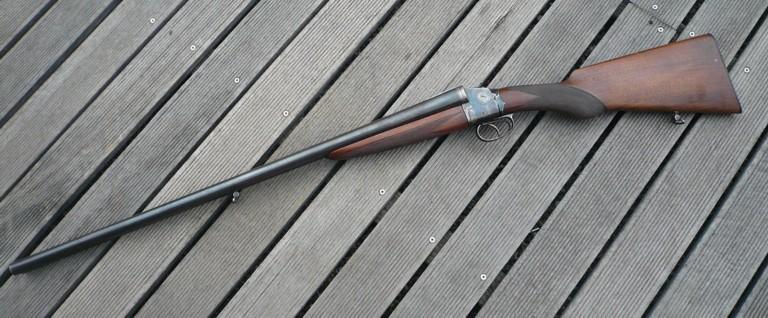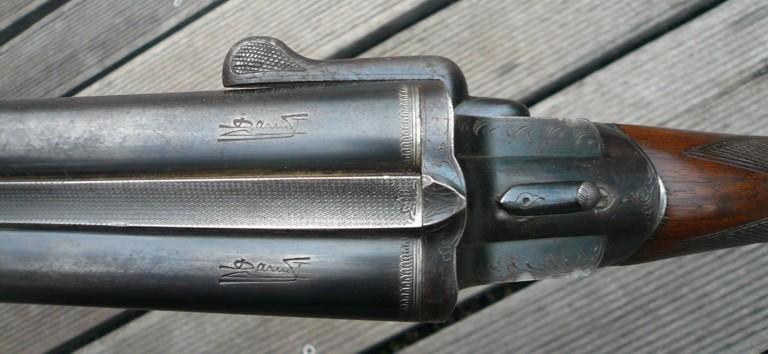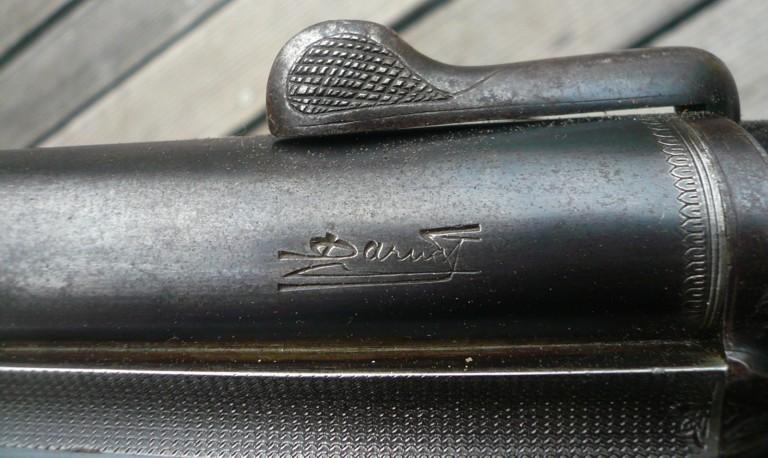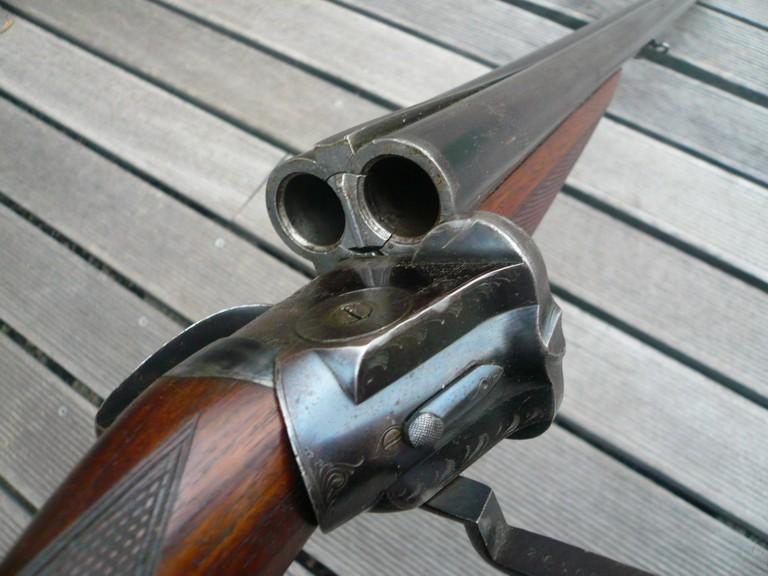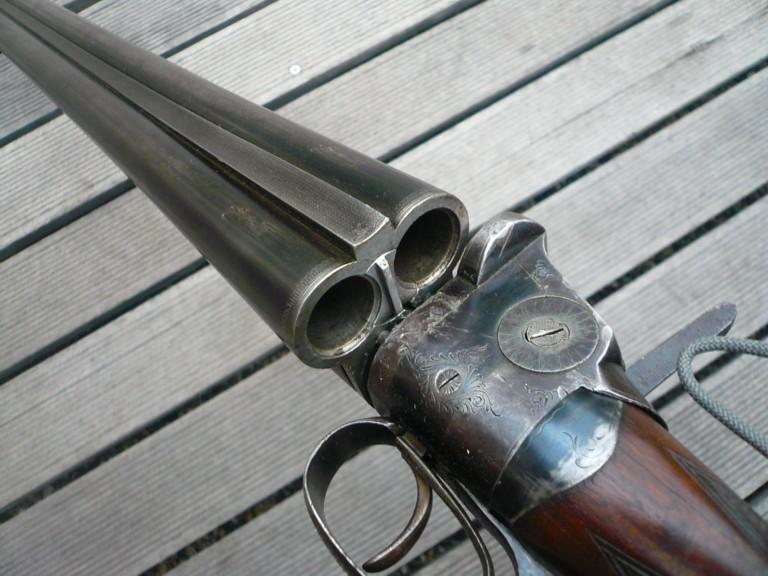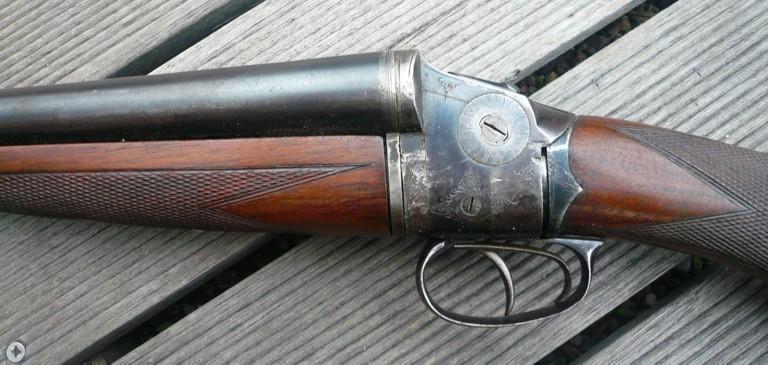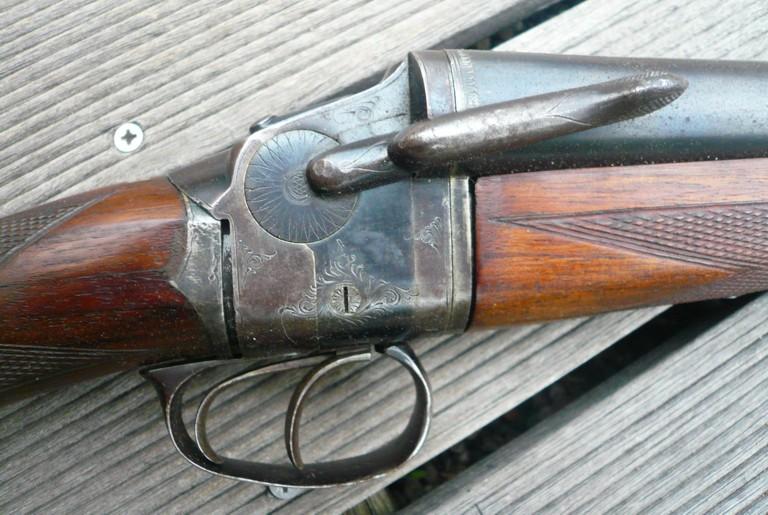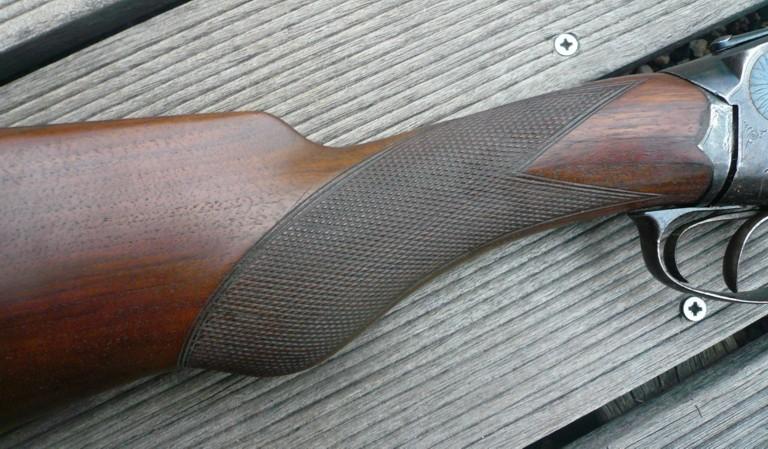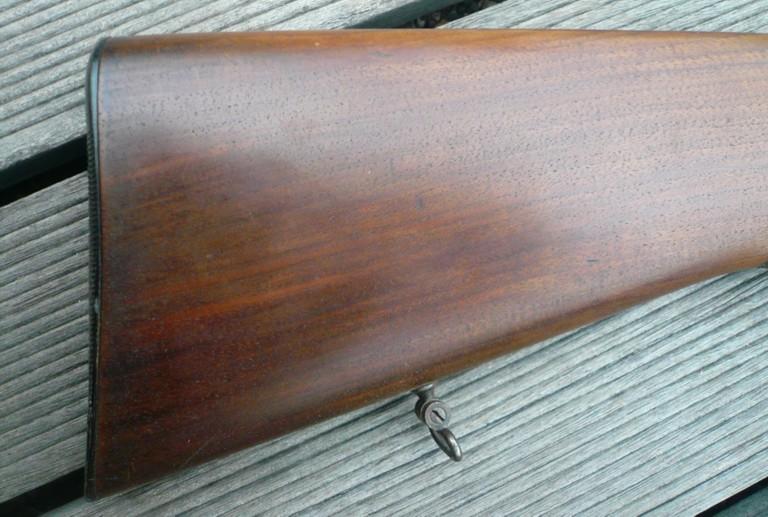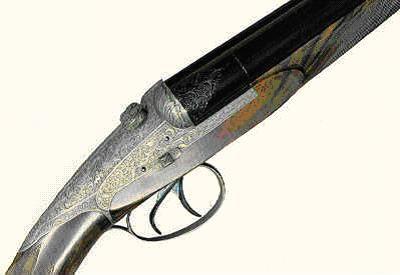 - The Darne Shotgun -
In 1881, a gunsmith from Saint Etienne, Régis Darne, patented a new basically different type of shotgun. It has a fixed barrel and a rotating breech system: the C model. By pushing the top lever, the breech block rotates 90 degrees on the right and gives access to the chambers (it doesn't have ejectors). C models were available in 3 grades: C2 to C4.
In 1897, appeared the first famous sliding breech system that we know today. Improved years after years, it was a real commercial success and Darne shotguns won a lot of golden awards in gun shows and shooting competitions.
Typical Darne action face:
The first models had half block barrels, but after 1902 Darne used a new process to fit the barrels together:
Tin soldering (at 250° C) and a Frette (mono-bloc) that holds the chambers. In fact, it was shown that the usual process of copper soldering (1000° C) for half block barrels can damage the temper.
There are four models of sliding breech guns: the Halifax, R, P and V models. They all have automatic ejectors and reinforced butt stock by a wood screw inside the grip.
The grade is given by punch marks (PM) under the barrel table:

(Typically add 10 to the number of punch marks to get the grade)
Proof Marks:
The barrels proof marks consist in two interlaced palms surmounted by a crown (blazon of the city of Saint Etienne)
Example of the 12 gauge 1913 black powder proof:
| | | | |
| --- | --- | --- | --- |
| Punch | Black powder (grams) | lead shot #8 (grams) | Pressure (kg/cm²) |
| X St Etienne | 10 | 60 | 790 |
| XX St Etienne | 14.5 | 75 | 1130 |
| XXX St Etienne | 20 | 120 | 1440 |
| XXXX St Etienne | 30 | 180 | 1720 |
When the gun is finished, another proof test is performed:
Black powder:

Nitro powder:

F surmounted by one crown: 960 kg/cm²

S surmounted by one crown: 1370 kg/cm²

PT (Poudre T) surmounted by one crown: 960 kg/cm²

PT surmounted by two crowns: 1370 kg/cm²

*Other nitro powders were also used. The following marks are commom: PR, PM, PJ and PS
Halifax Series:
Three grades : type 3 (3 PM) to type 5 (5 PM)
Upper barrel bolt from type 4
Proof : X for type 3, XX for type 4 and 5
Safety lever
Wood in one piece one certain models (forearm+stock) depending on the year of fabrication

The R Series:
Eight grades : R10 to R17 (no PM to 7 PM)
All the guns of this series have the upper barrel bolt
Special closing disks are mounted on the breech from R13
Horn piece in the front of the forearm from R15
Proof : XX for R10 to R12, XXX for R13 to R17
Opening in two steps on all models (first unlock then slide)
Safety lever

The P Series:
One Grade : P17 (7 PM)
Upper barrel bolt
Closing discs
Proof : XXX
Opening in one step (unlock and slide in one movement)
Safety button

The V Series:
Four grades : V19 to V22 (9 PM to 12 PM)
articulated triggers (firing pressure adjustable by shooter)
Upper barrel bolt
Closing discs
Opening in one step
Proof : XXX for V19 to V21, XXXX for V22

The A Series (swiveling breech system):
It looks like the R series except that it has a top lever as on a classical SxS.
The opening is done by pushing the lever on the right and pulling the action 180 degree towards the shooter.
Three grades : A8, A8b, A9
One PM for A8 and A8b and two on A9
Ejectors on A8b and A9
The S series (Over/Under):
Darne also produced few O/U : type S1 (1 PM) to type S3 (3 PM)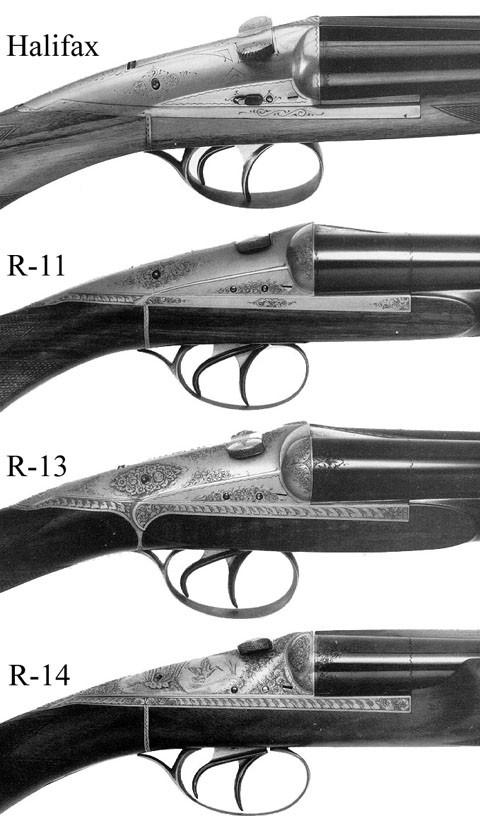 DARNE V22
It is most of the range, except V special series (VHS).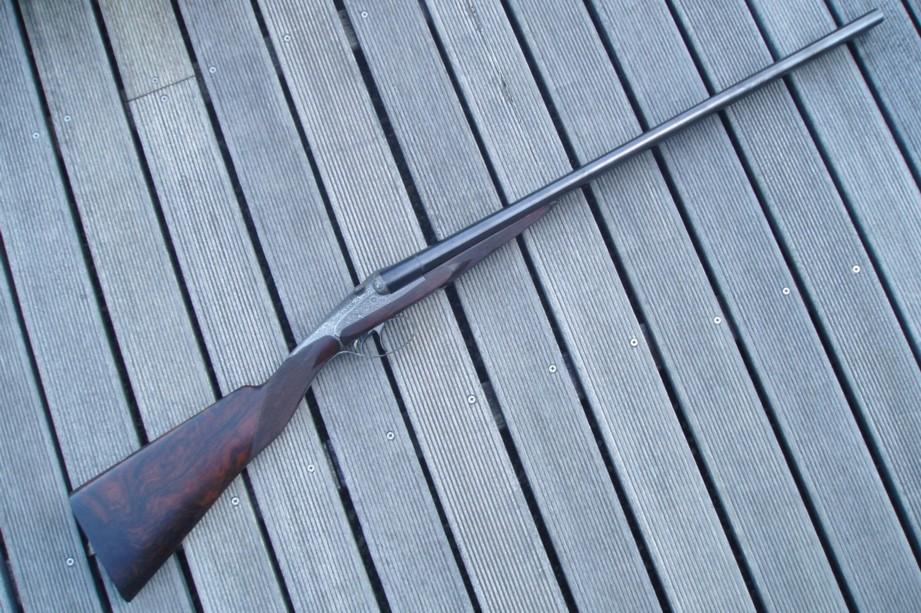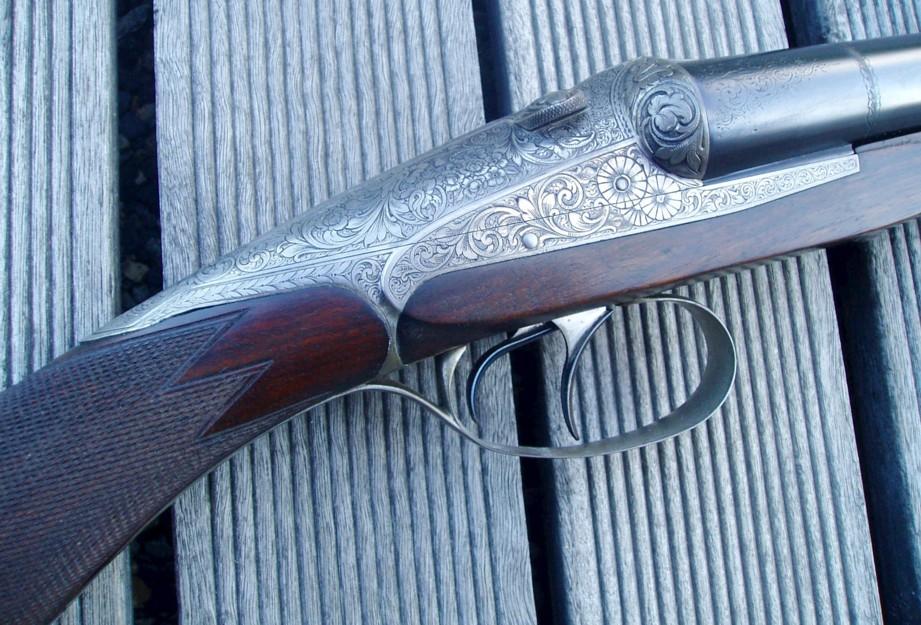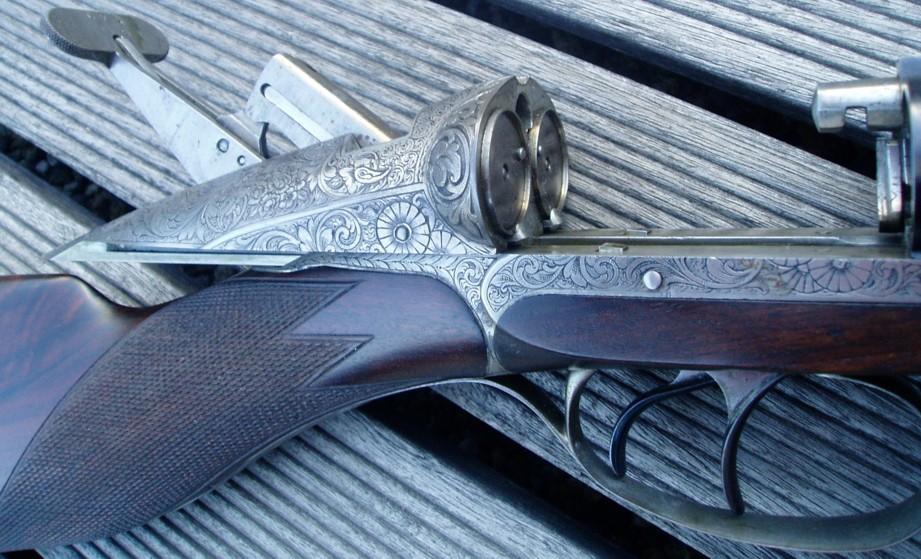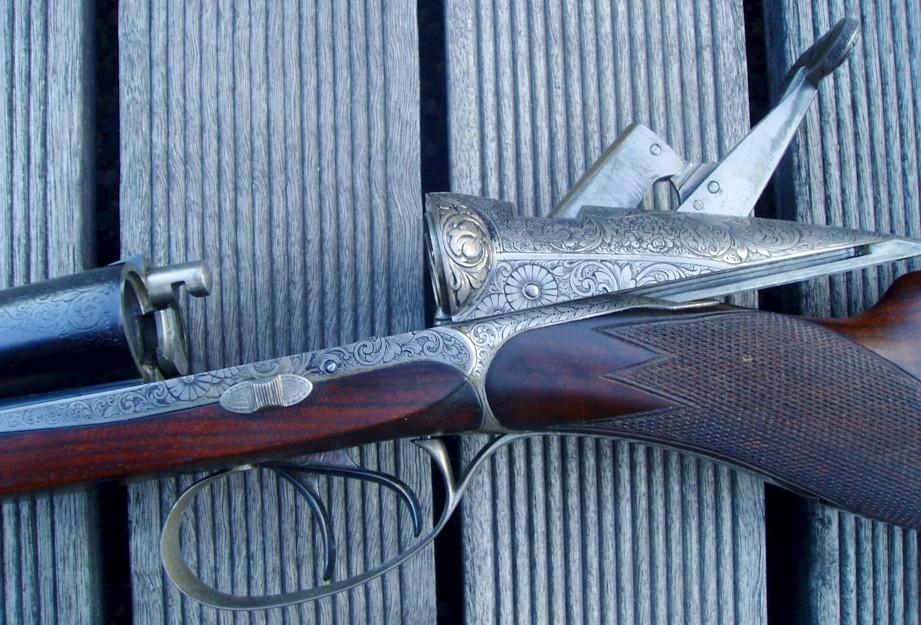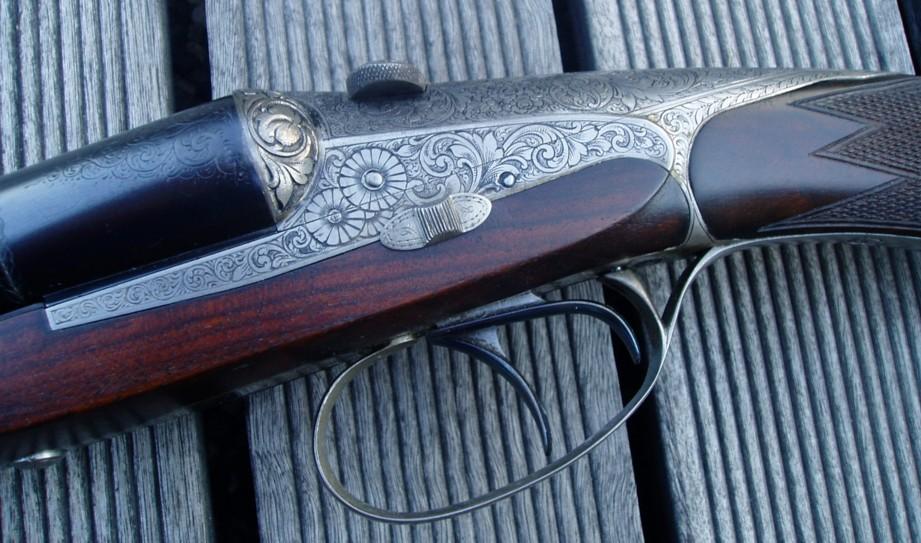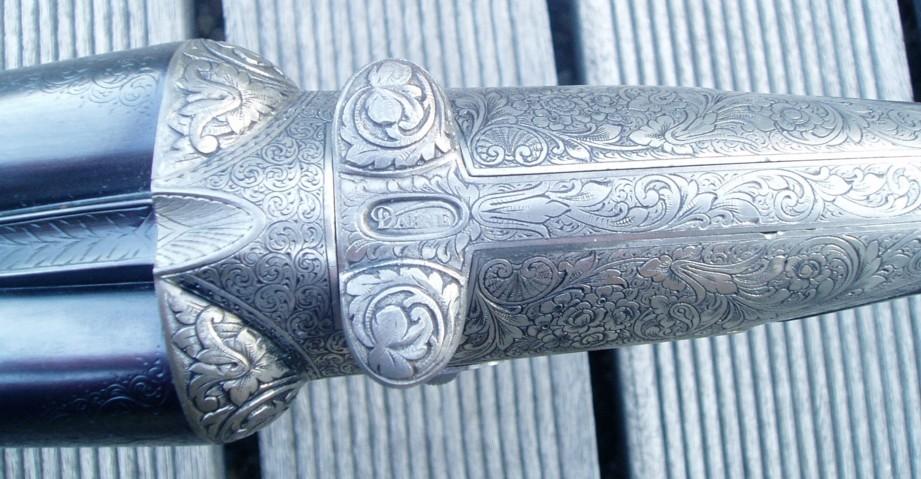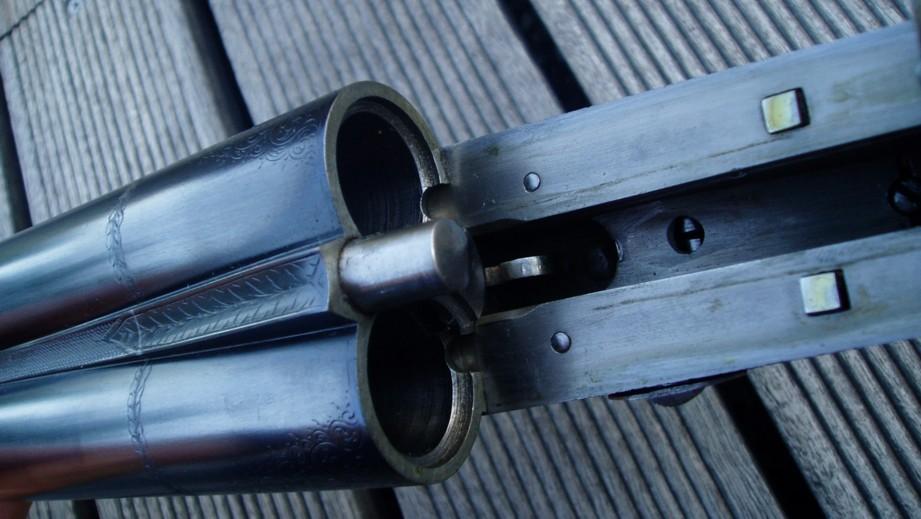 A Darne with rotary opening!!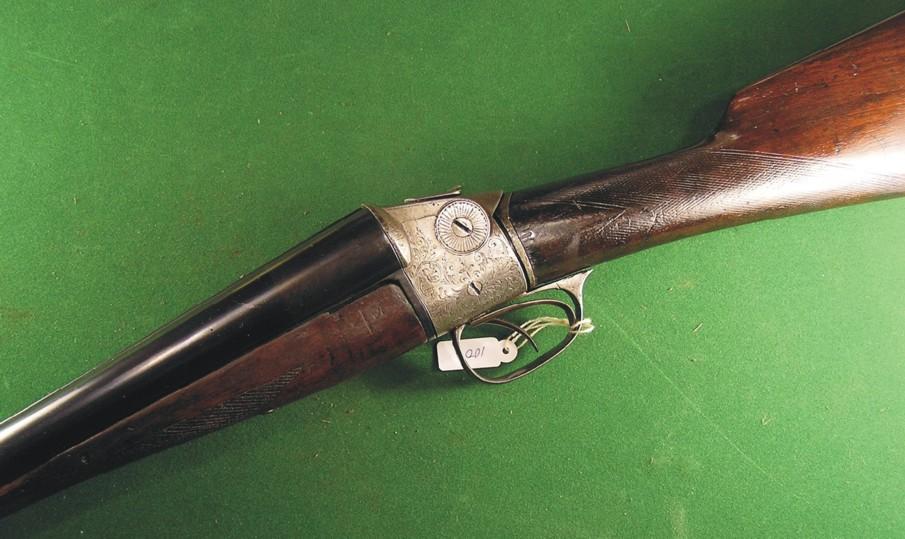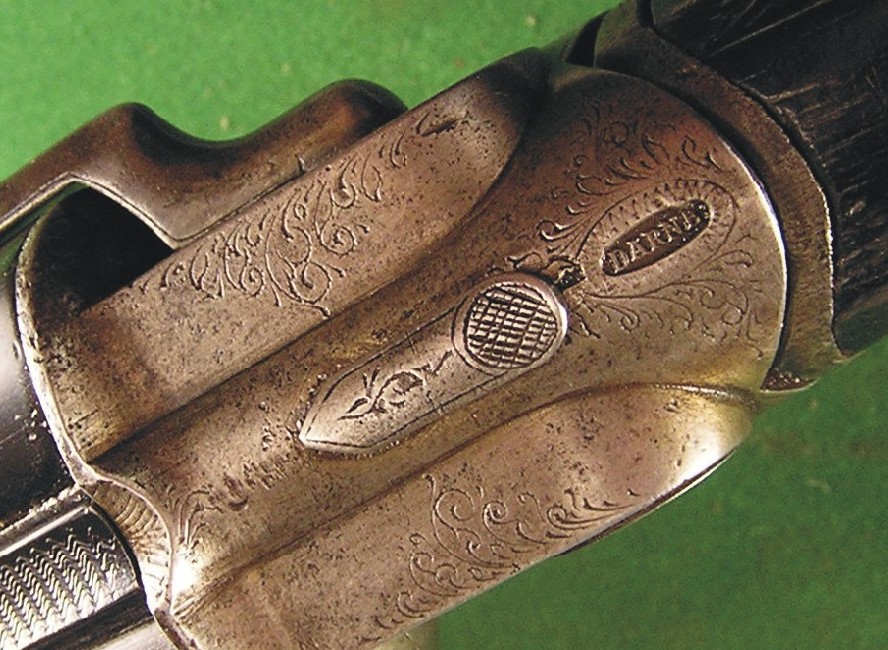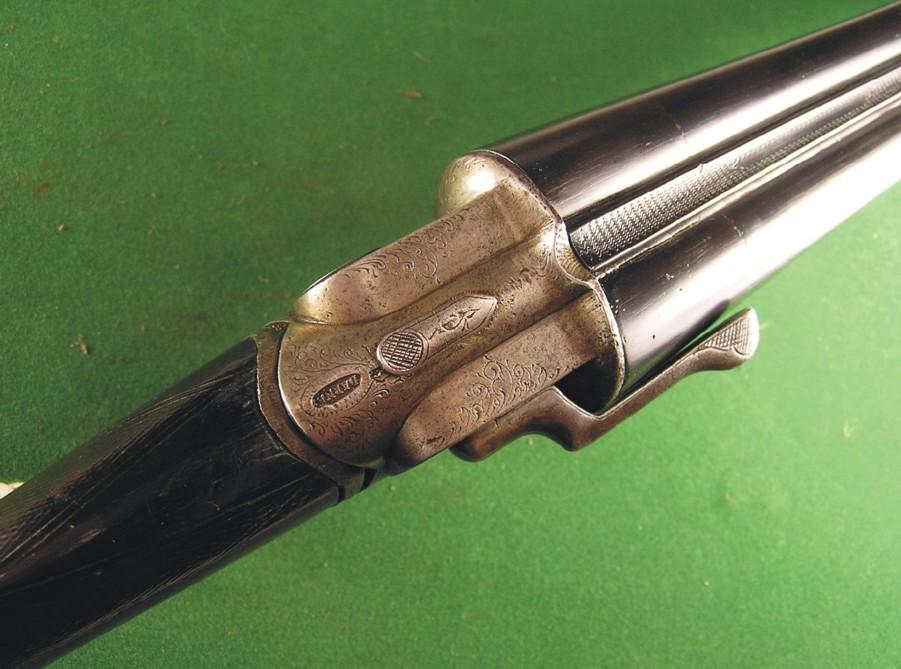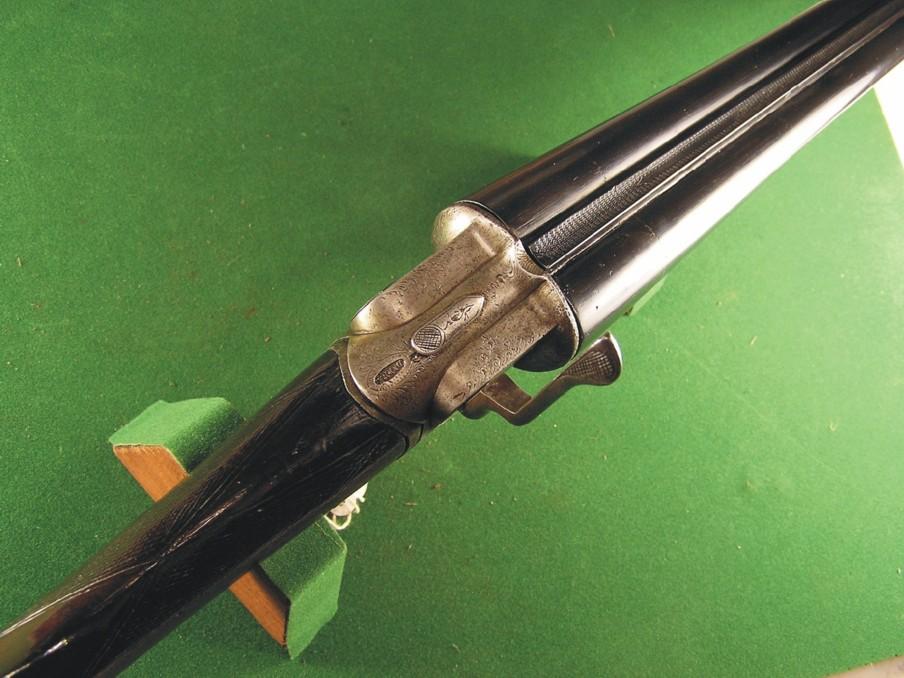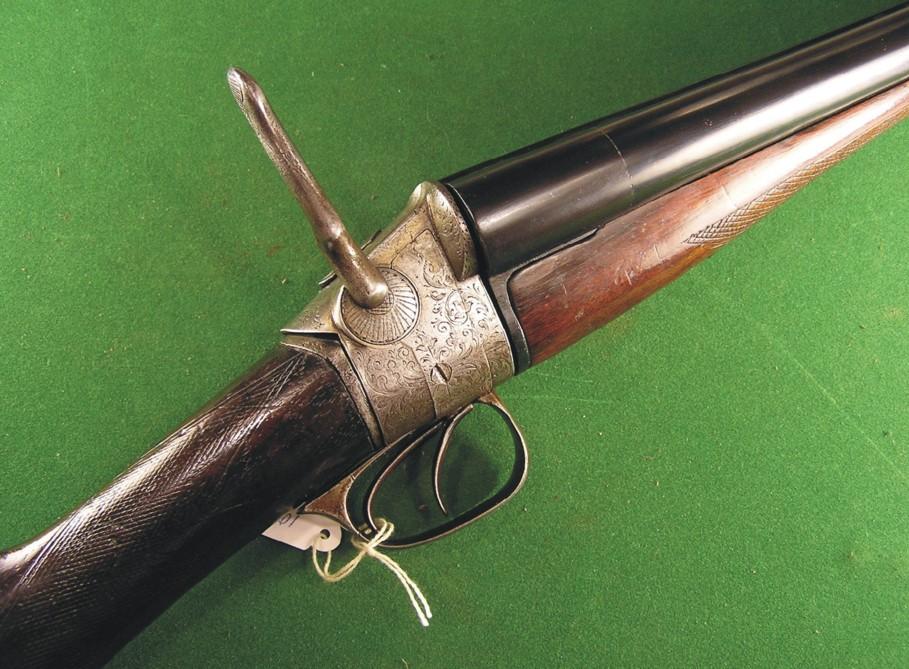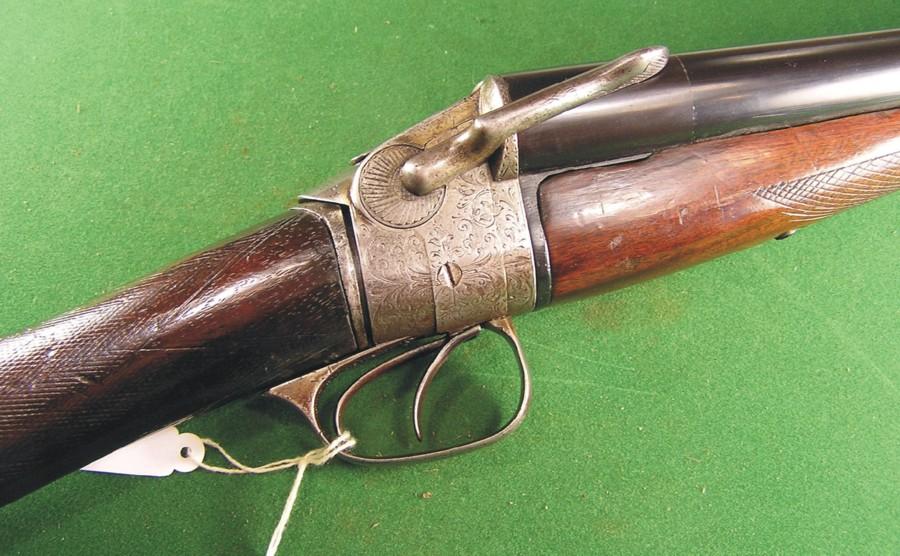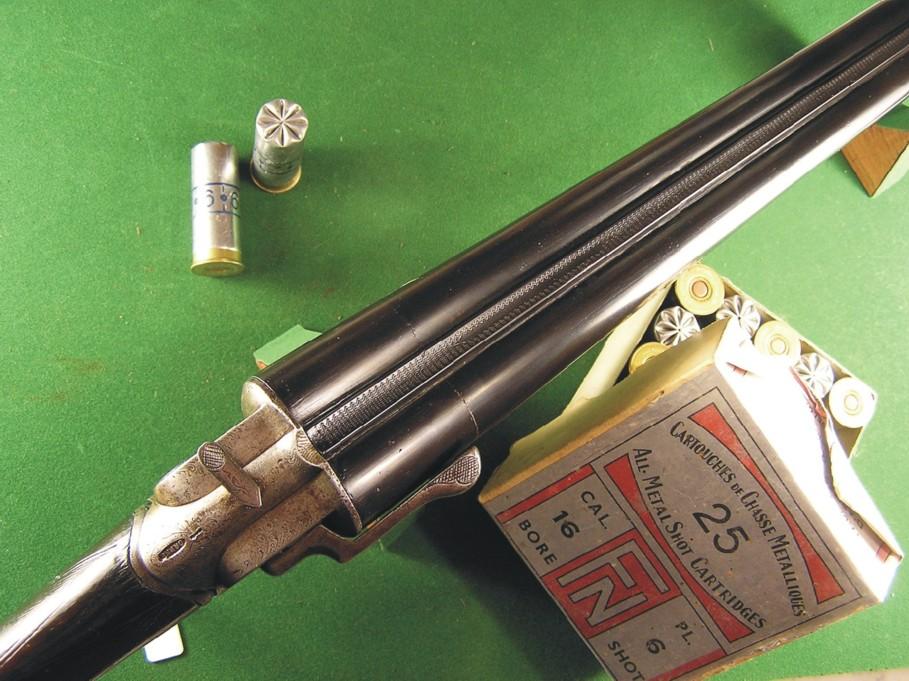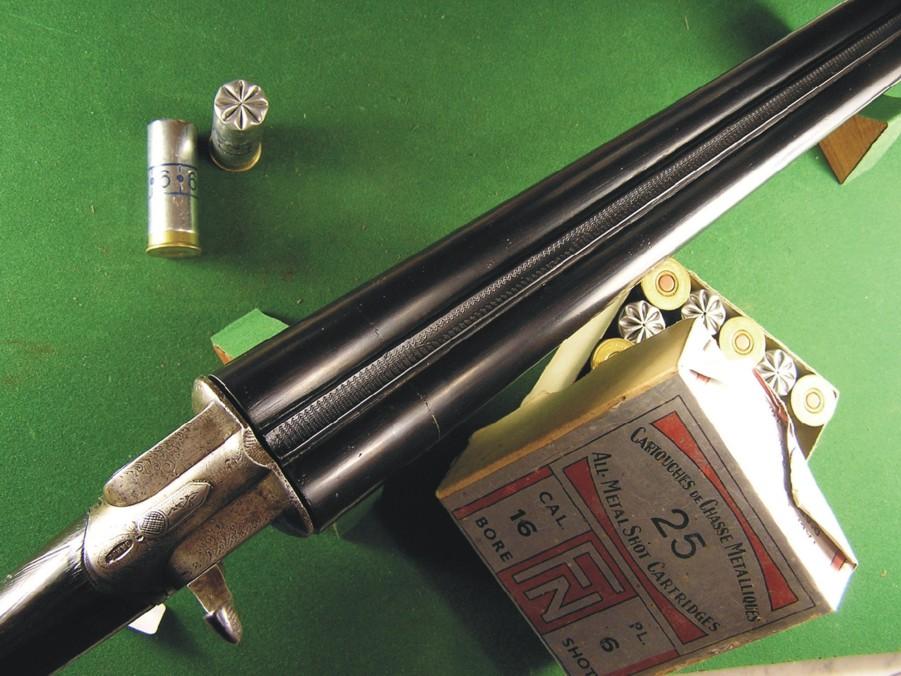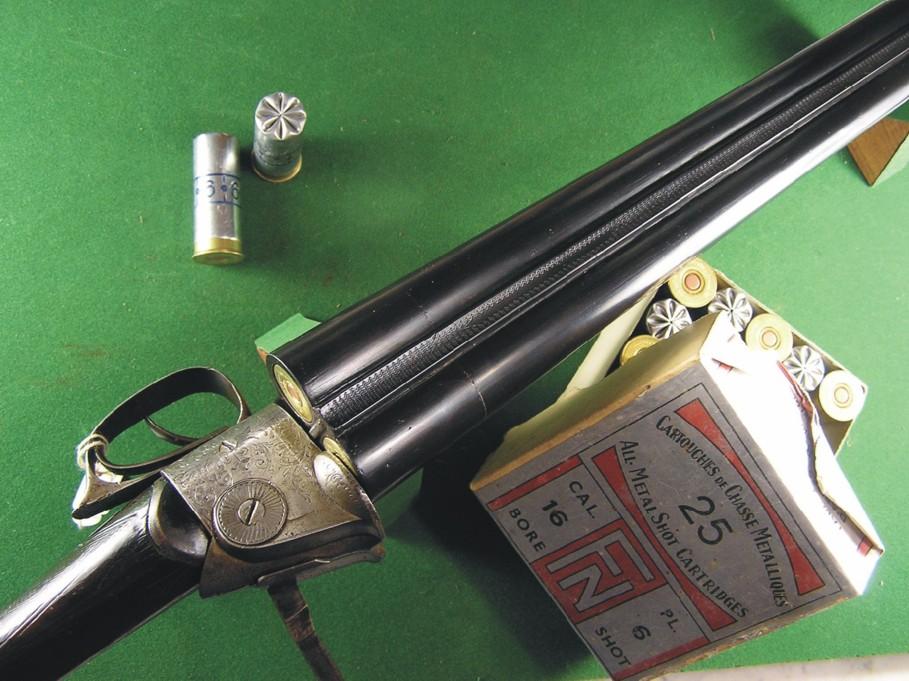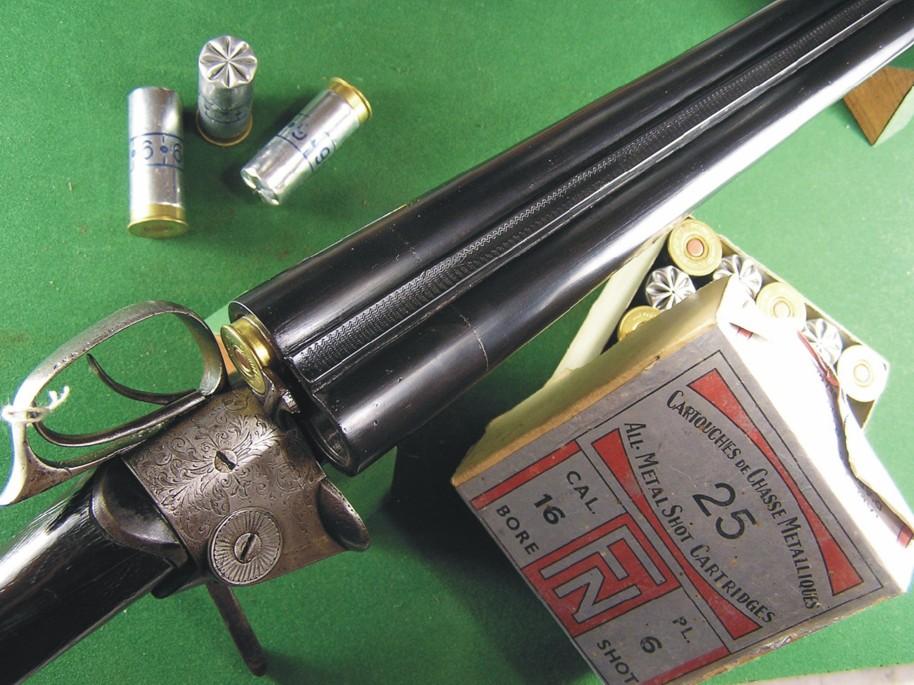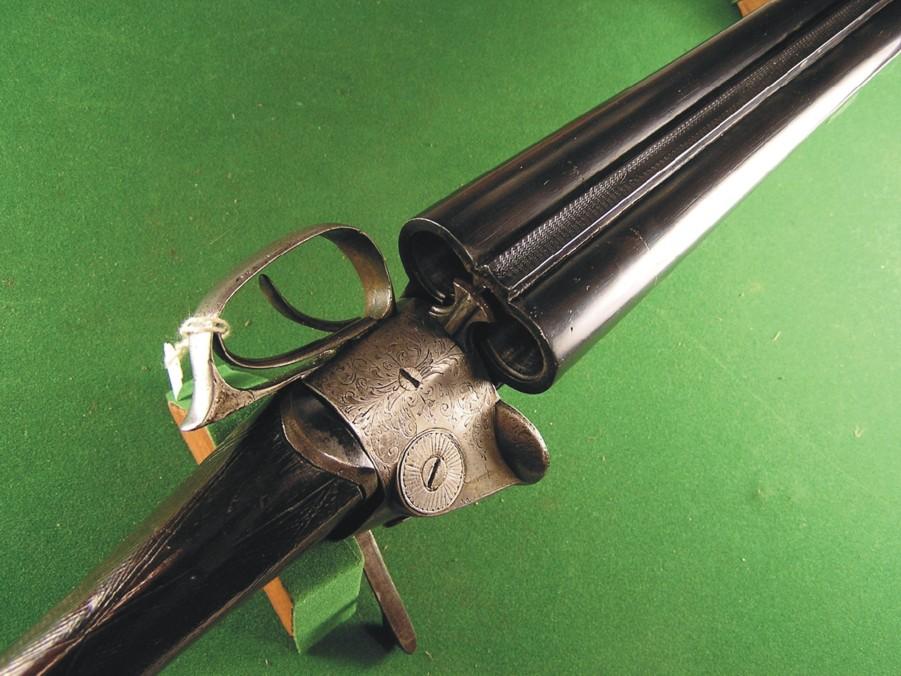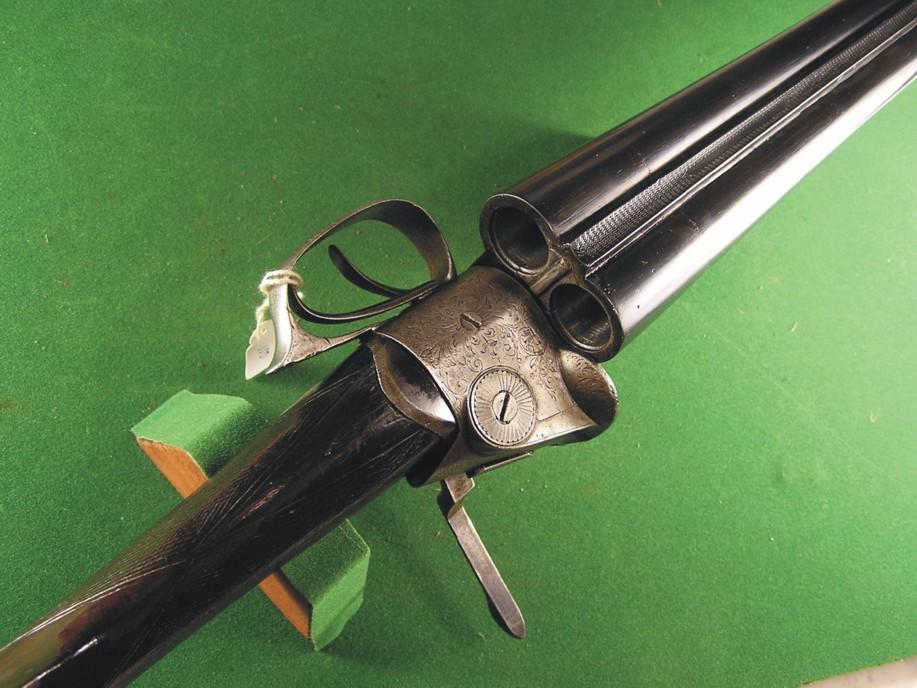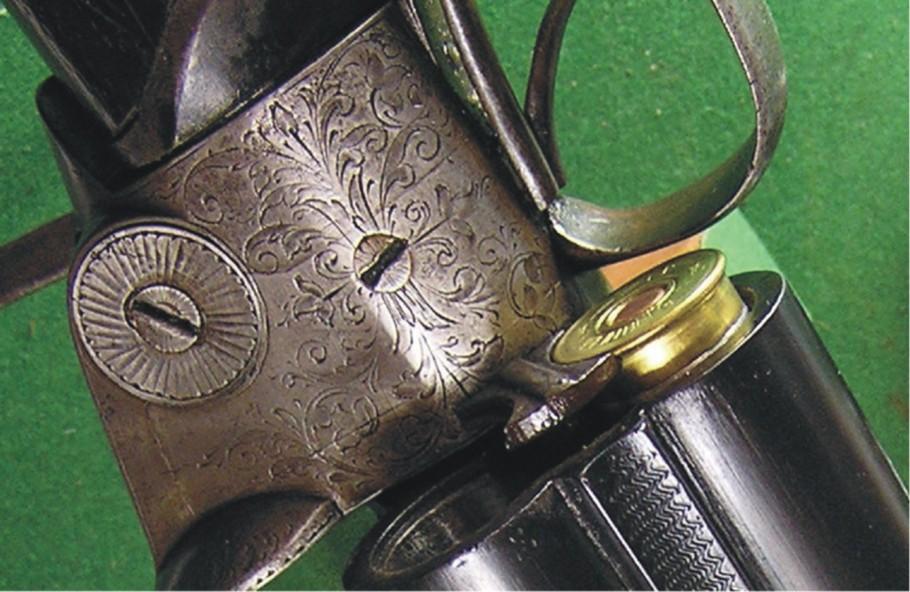 Rifle Darne series Halifax 3, 4 or 5; if it has as marks St Etienne one X it is type 3; if it to two X it is type 4 or 5.
Wood in one piece on certain models (forearm+stock) depending on the year of fabrication.
EM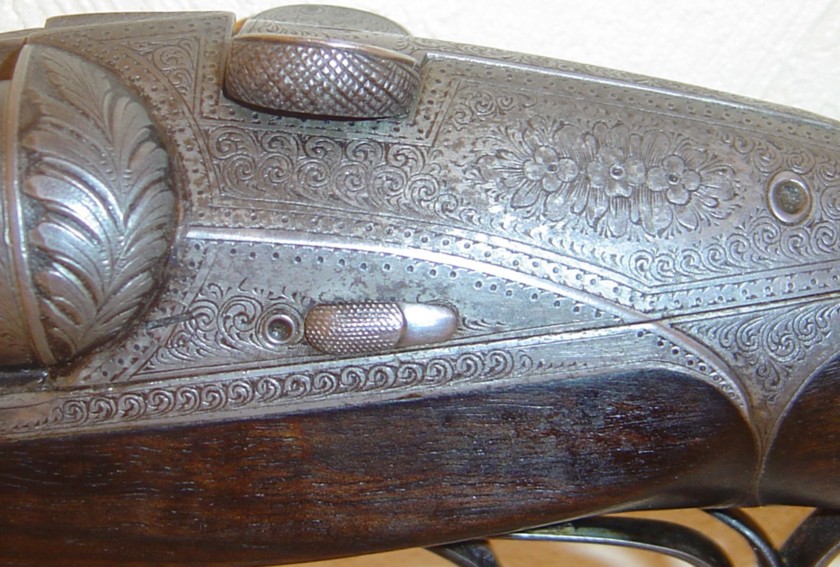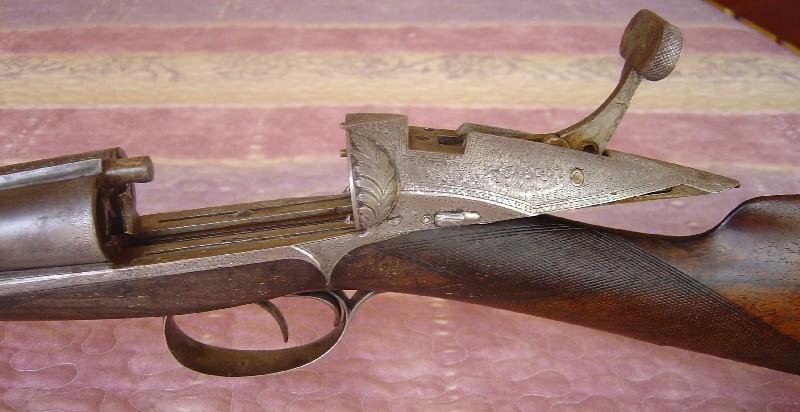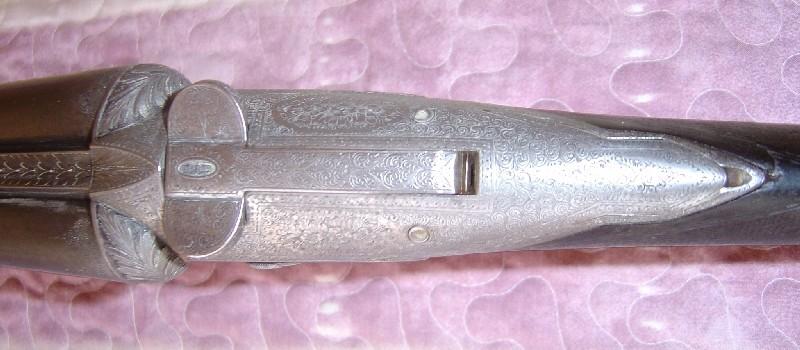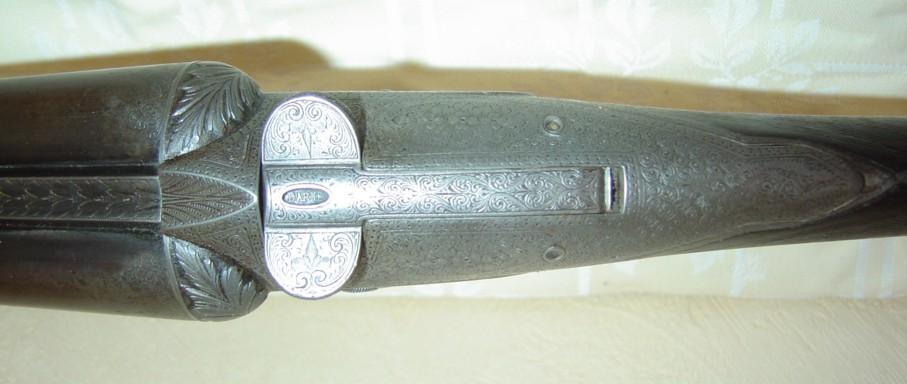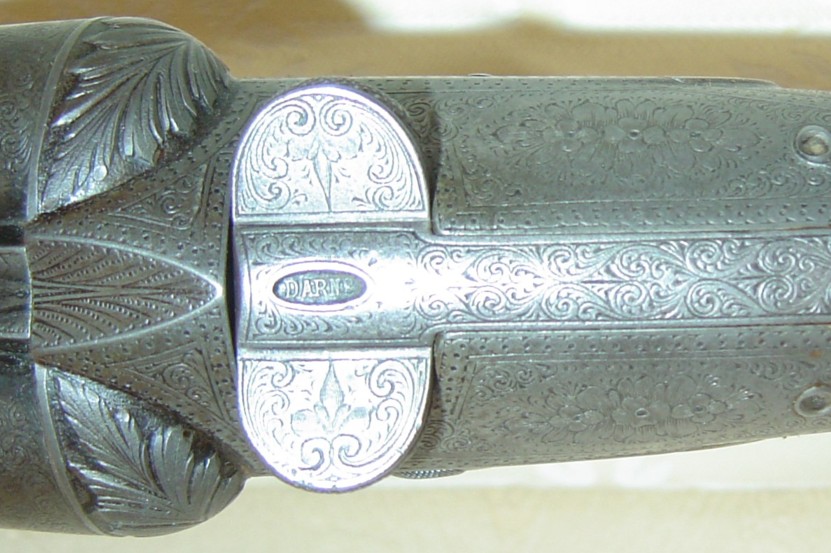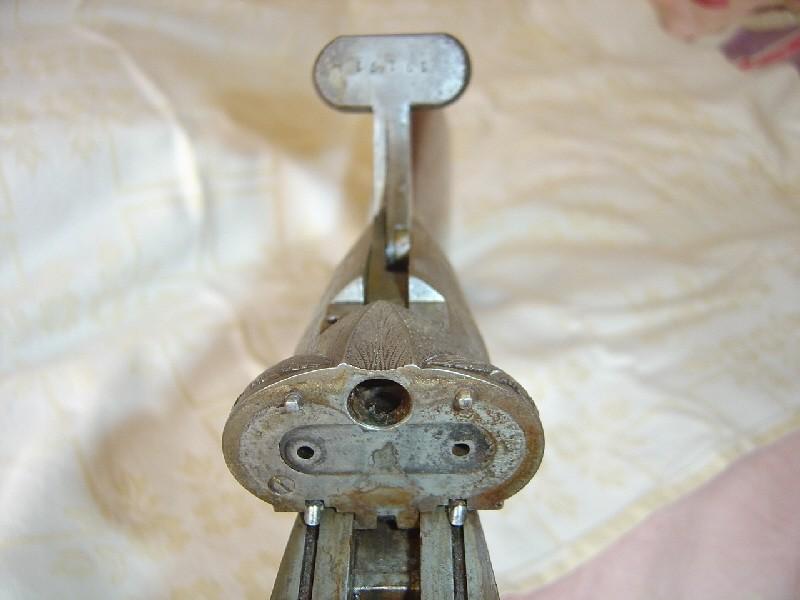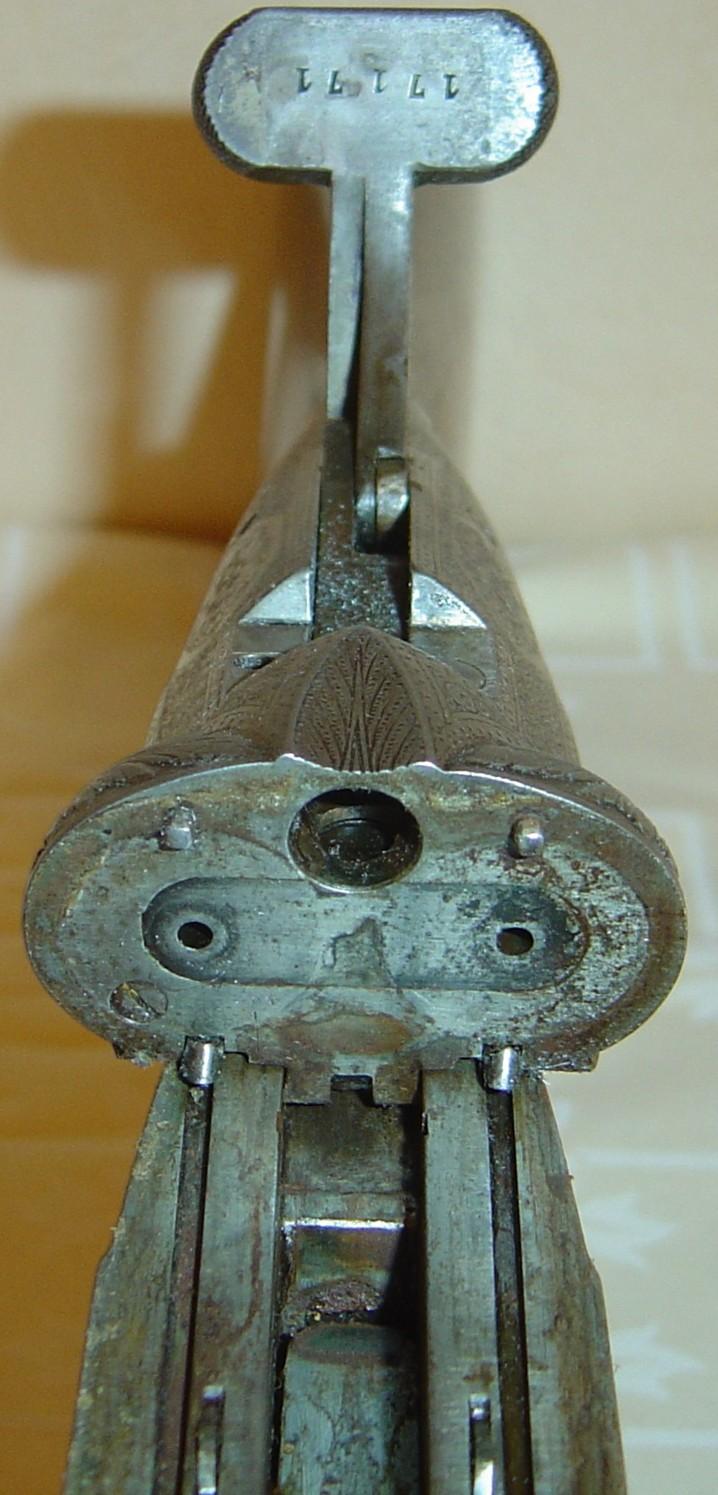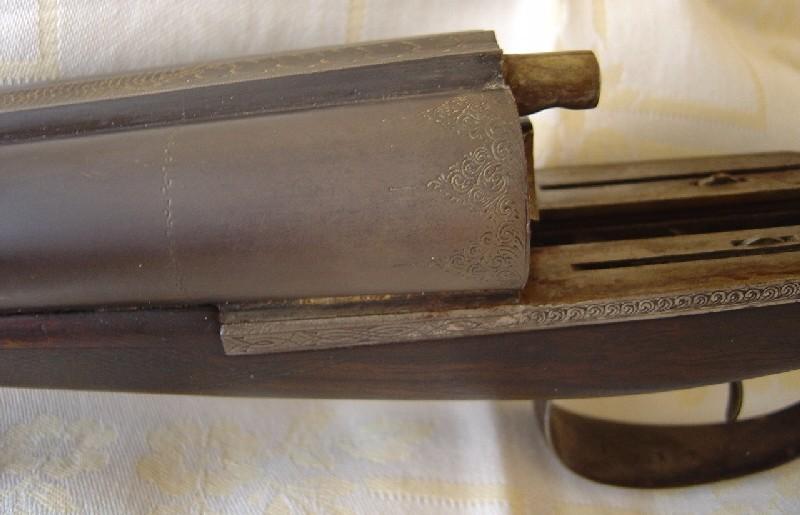 Halifax
Model 4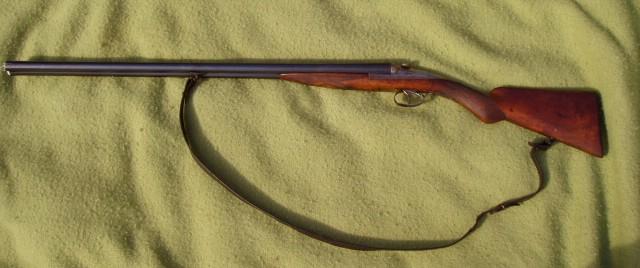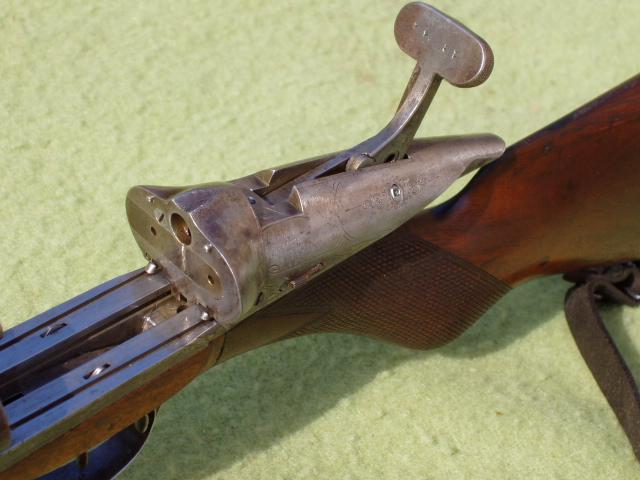 Halifax
Rare French 16 gauge system DARNE HALIFAX shotgun
Nicely engraved frame showing a nice patina. Marked HALIFAX.
Photographs friendly authorized by "ANTIQUEFIREARMS.COM"