Pidault Cordier model Raphael
Civil War/French Raphael Center Fire Revolver
Caliber: 11 mm (.42)
Large frame, double action Raphael revolver. About 1.000 Raphael revolvers were purchased on the commercial market by the federal government during the Civil War. Some Raphael revolvers may have been privately purchased by officers during the Civil War. It is assumed that the revolvers were manufactured in France.
George Raphael was a friend of Abraham Lincoln. He supplied both, revolvers and swords to the federal government.
The revolver does not display any markings, except for the serial number stamped on the front part of the cylinder (the Civil War era Raphael revolvers were unmarked).
Very interesting design of the cylinder with a complex loading system. In fact, the loading and unloading of the revolver was a quite complicated task, which was undoubtedly difficult to perform in the field.
Open top design. Six-chamber cylinder. Fixed front sight. Hardwood grips. Complete with a massive lanyard bolt, doubling as an extractor rod.
Barrel length: 147 mm.
Many thanks to "COLLECTIBLEFIREARMS" for the photos.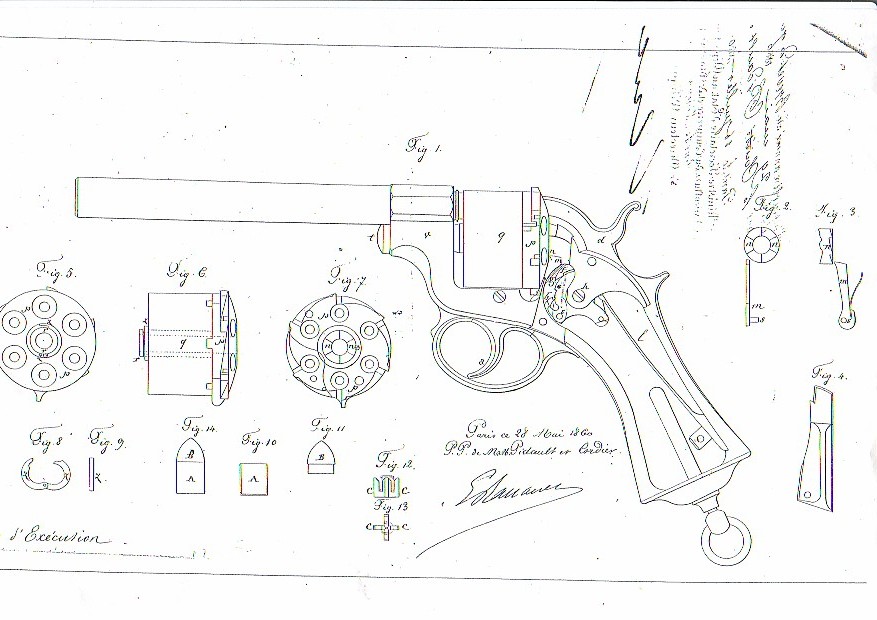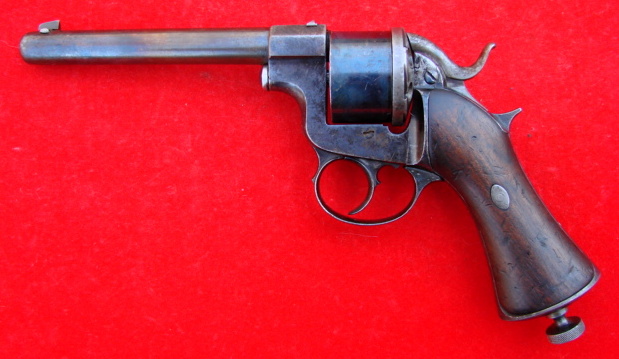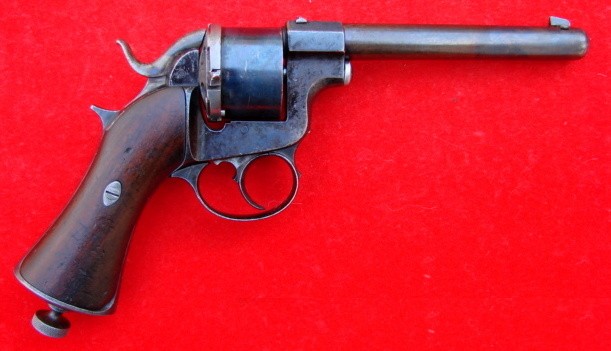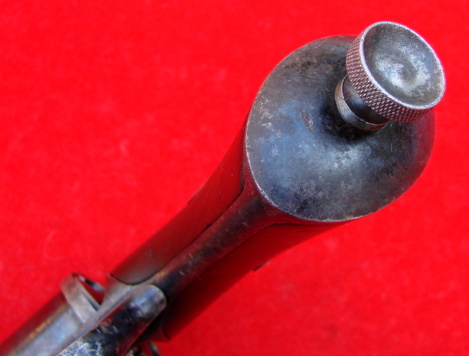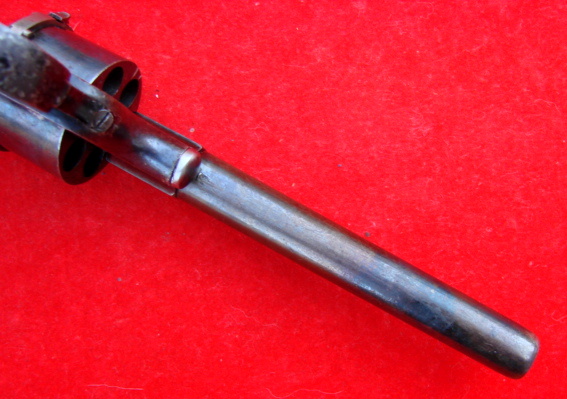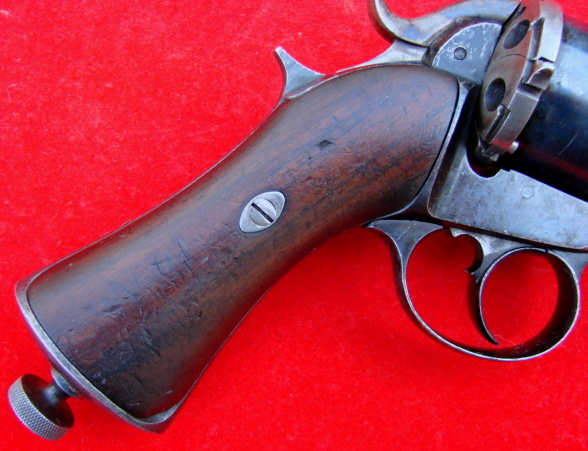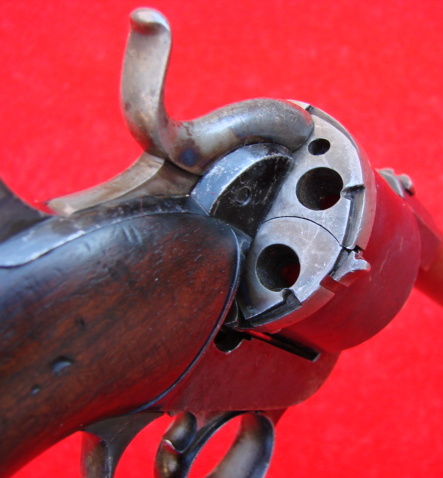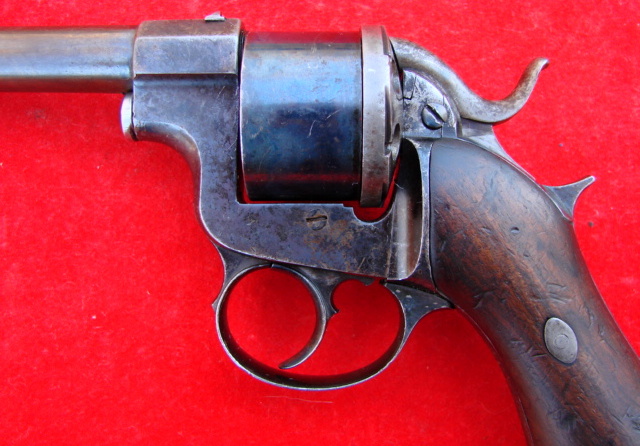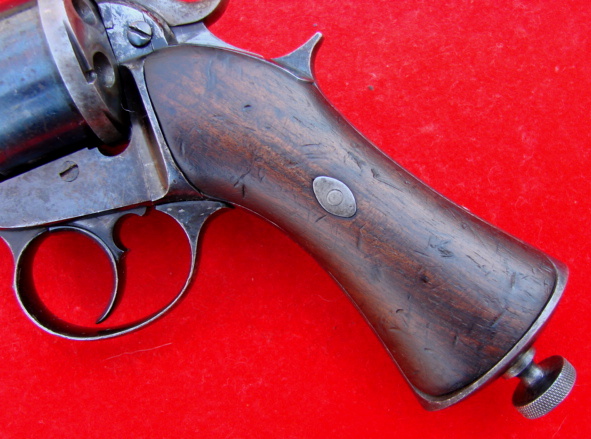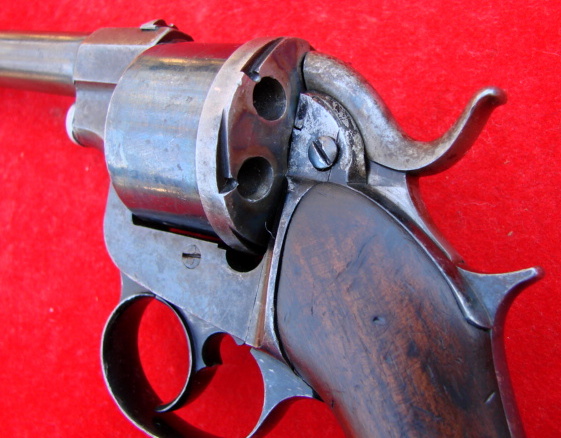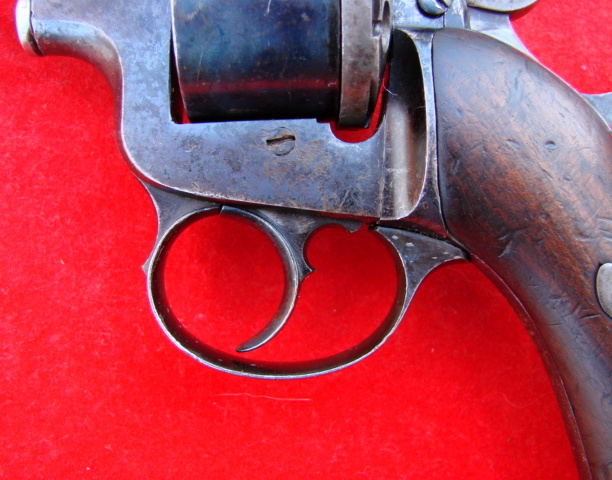 Pidault Cordier
By the form it is a PIDAULT & CORDIER, Paris 1860's
Horst (USA)
Revolver Pidault Cordier, precursor of the "Raphael"
Jean-Pierre Bastié (France)
I have seen the photos and read the information about the revolver classified as Pidault and Cordier in your website and now I wish to emphasize some points.
The revolver classified as above said (Pidault and Cordier) is really a revolver Tevis. It should be advisable to transfer those photos in the Tevis file, also because the object is the same.
Besides what is written in the book of A.W.F. Taylerson-R.A.N. Andrews-J.Frith "The revolver 1818-1865", page 312,
C.C.Tevis patented his revolver in Paris on May 15, 1856 nr. 27755. This patent was released to Tevis and Pidauld but with the description "revolver système Tevis".
That is: Tevis was the inventor and Pidauld carried out the material realization. This revolver is the same of the photo classified in your website both under Pidault – Cordier and under Tevis.
Plus, I inform you that the design enclosed to the patent n. 27755, is the same of the Tevis revolver.
On May 29, 1860 (4 years later) Pidault and Cordier patented (pat. nr. 45322) a "système de revolver perfectionné avec cartouche speciale". This is the revolver also known as Raphael, also in this case the comparison between the revolver ant the design enclosed to the patent is self-explanatory.
I do hope to have given to you useful information and I would like to read them on the right file.
Best regards
Paolo Ronco
As much this revolver "Standard Pidault names & Cordier", I also left the photographs in the heading Pidault & Cordier but by adding your text to it.
Many thanks to Paolo
Alain